Copyright © 2012, 2015 David Silver.



HIGHLIGHTS FROM THE CARL ZEISS JENA LENS COLLECTION

A BRIEF SURVEY OF SELECTED TREASURES...

...FROM LOST PORTIONS OF THE COLLECTION REDISCOVERED AND ASSEMBLED OVER TIME BY DAVID SILVER FOR RESEARCH INTO THE HISTORY AND ORIGINS OF THE LEGENDARY COMPANY'S EARLIEST PHOTOGRAPHIC LENS PRODUCTION



---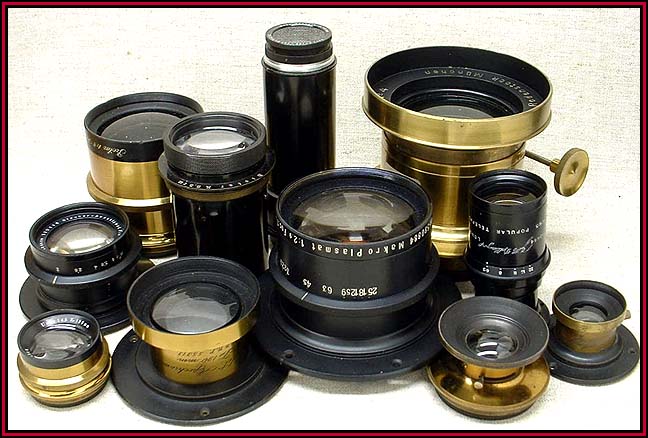 A first glance, a random selection of interesting treasures from the Carl Zeiss Jena lens collection, showing historically significant optical designs from many of their competitors, as well as some of their own pieces. In this grouping, second from the left in the front row is one of the few surviving examples of the Triplet Achromat (aka Triplet Apochromat), the very first optical design patented in 1890 by Dr. Paul Rudolph and Dr. Ernst Abbe for Zeiss, predating Rudolph's anastigmat (Protar) patent by several months.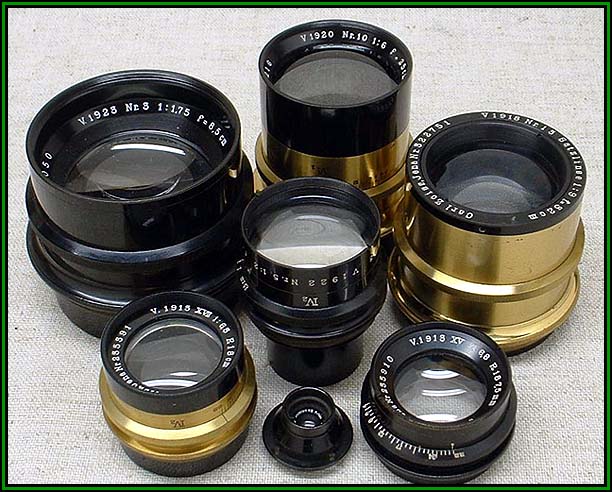 Here is a number of Carl Zeiss designated Versuch experimental lenses from 1918 to 1925, possibly the first time in over 60 years that so many original "V-lenses" have been assembled in one place at the same time.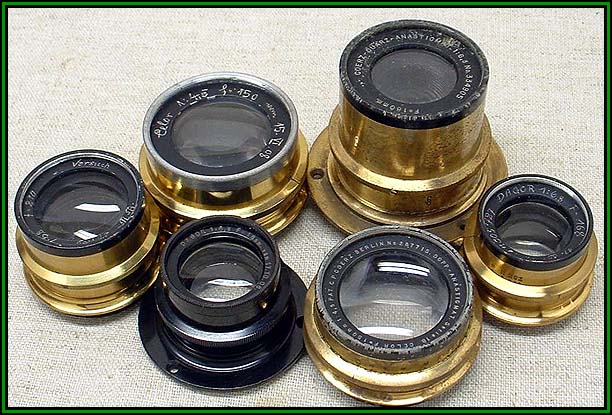 Several Versuch and other prototype lenses from the Goerz lens collection, which Carl Zeiss eventually absorbed, including Dagor and Celor variants, and a very unusual Quarz Anastigmat for ultra-violet light.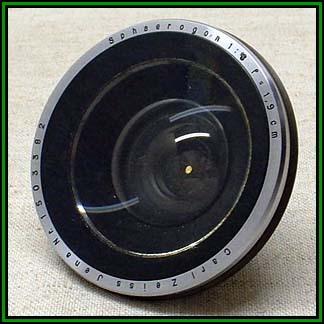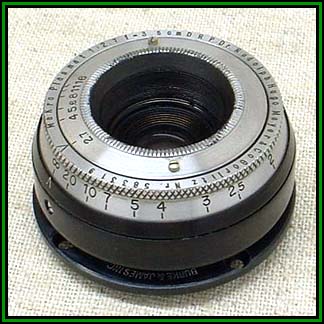 Here are two influential wide-angle designs from the Zeiss collection. On the left is a legendary Carl Zeiss Sphaerogon 1.9cm f/9 ultra wide-angle lens, and on the right an experimental variant of the Hugo Meyer Makro-Plasmat 3.5cm f/2.7 lens in modified Leica screw mount.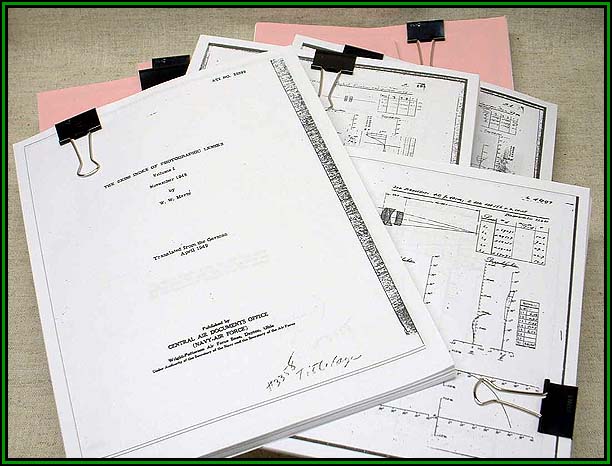 My working copy of the massive 990-page Zeiss Index of Photographic Lenses compiled by Willy Merte in the late 1940's under the supervision of Ed Kaprelian while working with the US Army Signal Corps. This represents just a portion of the more than 2300 pages of documentation I needed to read through while researching the beginnings of Carl Zeiss Jena photographic lens production!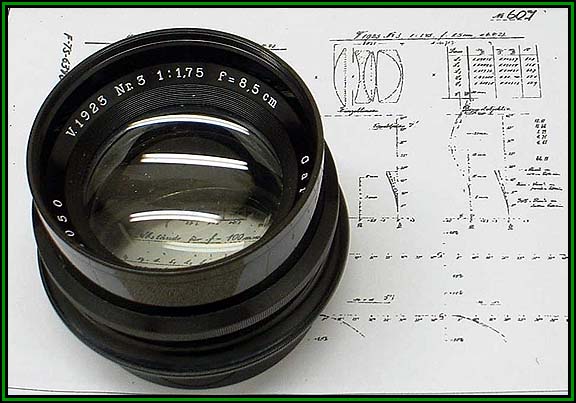 An impressive Carl Zeiss Versuch or experimental prototype lens, dating from 1925, representing an 8.5cm design with fast f/1.75 maximum aperture, sitting on a copy of the original Zeiss data and test results card.








Exceptional Taylor, Taylor and Hobson Cooke Anastigmat lens variant, their famous triplet design, this example for 3 1/4 x 4 1/4 inch format coverage, sitting on a copy of the original Carl Zeiss data and test results card.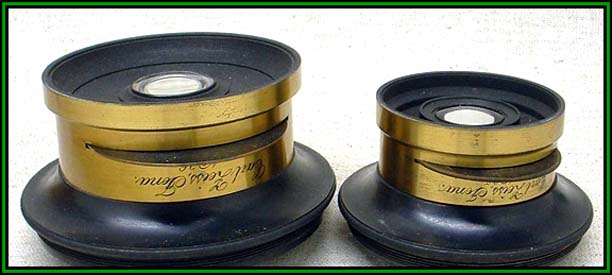 Two original Decmeber 1890 prototype production Weitwinkel (wide-angle) variants, fully finished in polished brass barrels, of Dr. Paul Rudolph's landmark anastigmat design, in 240mm and 190mm focal lengths, with wheel stops. The following year, the initial catalog versions of this lens were decidedly lighter and more compact.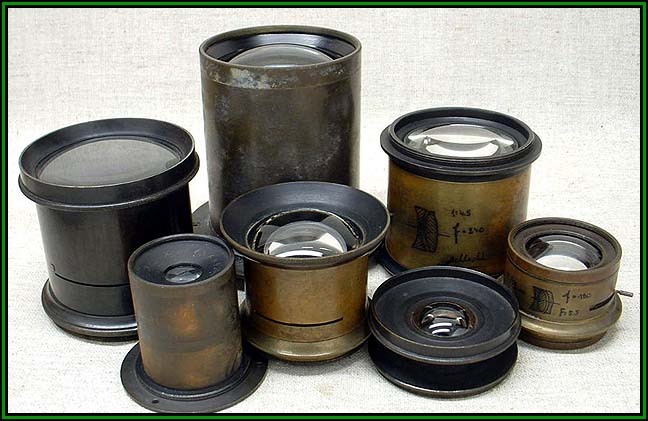 Comparing and matching the many unique experimental optics in the collection that lack any proper identifying mark (other than occasional lead or grease pencil data, small optical diagrams, and engineering shorthand) with actual references within the Zeiss documentation presented a daunting and time-consuming task. However, patience and tenacity were rewarded. The lens in the front center of this picture, with the extremely rounded glass surface, was eventually identified as the #2 variant of the 1889 CZJ prototype Anastigmat-Weitwinkel, and the very flat example to the side of it is the #4 variant in much shorter focal length and an alternative barrel design. To the far left is the final prototype of the legendary Triplet Achromat formula.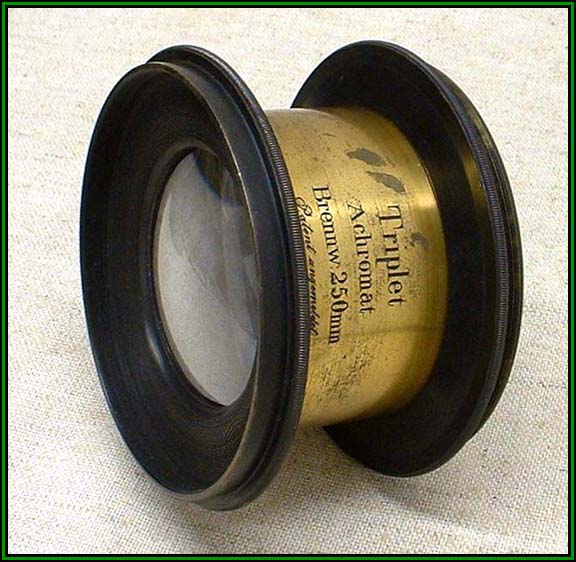 One of only three known surviving examples of the Triplet Achromat (alternatively marked on some examples Triplet Apochromat), and at serial number 14, the earliest surviving Carl Zeiss Jena standard production lens of any sort.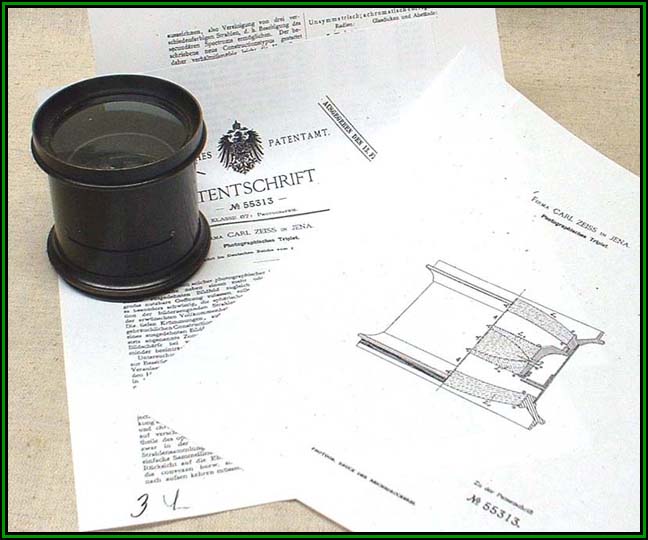 Here is the final completed prototype of the Triplet Achromat, upon which the patent application was based in April 1890. While in development, before the model name was decided, Zeiss referred to this series as "aplanat", due to its symmetrical nature, and used a three digit numbering to differentiate them from "anastigmat" prototypes. This last Triplet Achromat prototype is hand inscribed "aplanat 123" beneath its many years of aged patina, and is specifically noted within the Zeiss lens collection manifest.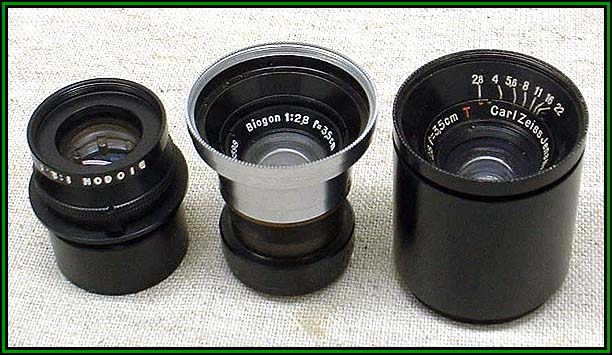 Three experimental prototype variants of the outstanding Carl Zeiss Biogon 3.5cm f/2.8 wide-angle lens, showing a continuing subtle evolution in optical design.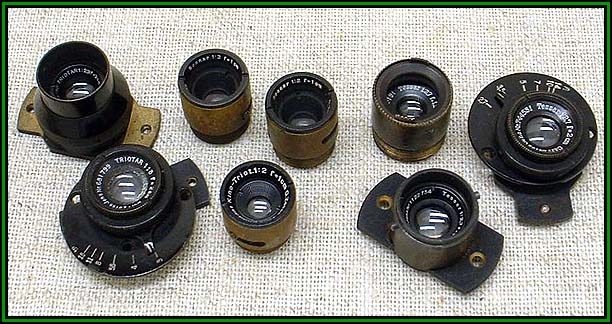 A selection of tiny experimental prototypes of three Carl Zeiss classics, in short focal lengths for bench testing and other applications, including Triotar, Sonnar, and Tessar examples.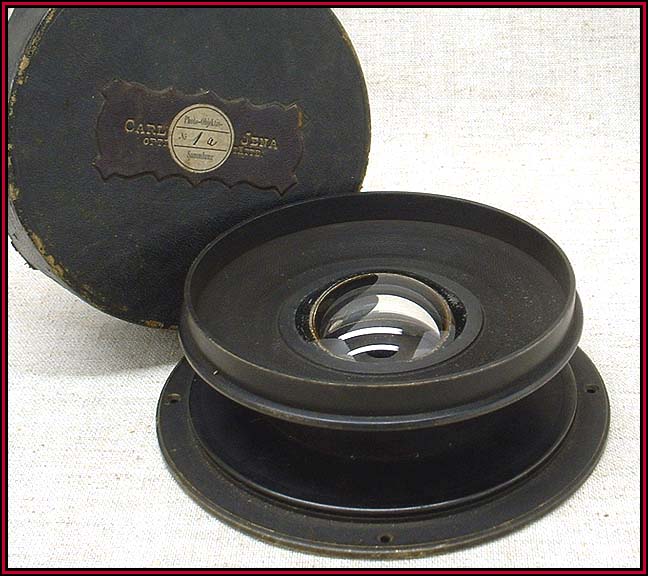 Perhaps one of the "Holy Grail" lenses from the Zeiss collection, here is the very first successful completed incarnation of Rudolph's anastigmat formula, a heavy brass mounted weitwinkel of 210mm focal length and fixed aperture of f/18, with original matching flange, which they designated #1 among their 1889 prototype lenses. Note the special oversized Photo-Objektiv-Sammlung (photo lens collection) cap, labeled for lens No. 1a, to cover the entire lens barrel.

For more information on these and other pieces from the original Carl Zeiss Jena lens collection, please feel free to contact David Silver directly at silver@well.com, thank you!