Selected articles on antique and classic cameras, vintage photographs, and the history of photography.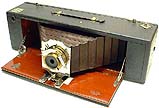 For nearly thirty years, David Silver, InPHO's current President and one of its founders, has written extensively on the history of photography, the evolution of the camera, and the collecting and preservation of antique and classic photographic artifacts. He has published over seventy major articles during that time in a variety of periodicals, as well as dozens of smaller pieces, and updated entries on photography for World Book Encyclopedia. Provided here is an eclectic selection of those writings covering a wide range of topics. To view each article, please click on its highlighted title.


---
Table of Contents
---

Articles published in Camera Shopper:

Early in 2005, David Silver was invited to become a contributing editor for Camera Shopper magazine, the most successful continuously running periodical in the camera collecting field. Below are a number of the articles he's written for them so far.



THE 1939 RIKEN GOKOKU NO. 1

During World War II, the Japanese photographic industry was forced to make ingenious compromises in the face of severe 35mm film shortages, and the result was a number of rare "Leica clone" cameras that used #127 roll film!



THREE CLASSIC BOX CAMERAS FOR 35MM FILM

Beyond Leica and well before Contax, there were 35mm cameras for everybody, but current collectors and enthusiasts often neglect these historical gems!



THE 1896 POCKET ZAR

Here's the story of a rare yet simple miniature cardboard box camera, the forgotten inspiration for the original Brownie, and the tough little company that made it!



THE 1912 SENECA FOLDING ROLL FILM CAMERAS

The Senco was an unusual folding roll film camera design from Seneca that today begs the question, "What were they thinking?!"



THE 1881 NE PLUS ULTRA STEREO VIEW CAMERA

During an age of fancy polished wood and brass cameras, the American Optical Company produced a remarkable black beauty!



THE 1892 FOLDING ROCHESTER

Here's the extremely rare and legendary American self-casing folding plate camera that established a standard for generations of similar cameras that followed!



THE 1908 BELL PANORAMA CAMERA

This is the tale of how the fine art of balancing simplicity and ingenuity succeeded in creating a rare American panoramic camera!



---

Articles published in Photo Shopper:

From 1995 to 1997 David Silver was a contributing editor for Photo Shopper magazine, a glossy new periodical covering all aspects of the photographic world. During that time he published seventeen monthly installments in the popular Buying Classic Cameras column. The magazine ceased physical printing in 1997, but continued to operate and expand its highly successful web site through the end of that year. Unfortunately, another major publishing syndicate purchased Photo Shopper's parent organization in 1998, and they expressed little interest in maintaining a photography magazine. Before they terminated Photo Shopper completely, David Silver was quick to preserve the first eight of his columns, the only ones available on their web site at the time, and has included them here for your enjoyment today.

These articles were more general and light-hearted in nature than David Silver's usual writings, in compliance with the guidelines requested by Photo Shopper's editor and publisher, yet proved to be the most popular features in the magazine. Furthermore, they introduced many new participants to the world of camera collecting. Often written with tongue firmly in cheek, or spinning humorous hyperbole, these entertaining pieces nonetheless remain timely and informative.



SURPRISING BUYS UNDER $100!

The first in David Silver's popular Buying Classic Cameras series, this is a brief introduction to the variety of cameras for which a collector can search, including recommendations for some surprisingly good bargains.



USABLE COLLECTIBLES FOR MEDIUM FORMAT? WHY NOT?!

An article on classic medium format roll film cameras, many of which are still usable today as well as collectible, that would serve as perfectly capable alternatives to expensive modern cameras.



FORGOTTEN SOLDIERS OF THE JAPANESE 35MM INVASION.

This was the article that "broke the ice" for the series when it was published, and motivated many new people to join the collecting ranks. It's a brief survey of some of the lesser known Japanese 35mm cameras that arrived in America during the twenty years following World War II.



AN AMERICAN TRADITION IN LARGE FORMAT BEAUTIES!

A stunning selection of pictures, showing many wood and brass treasures from David Silver's extensive collection, highlights this excellent article on antique American large format cameras.



A NEOPHYTE'S GUIDE TO COLLECTING PHOTOGRAPHICA.

This is a practical beginner's primer on collecting photographica. Originally intended to run in two installments over two issues, instead it was published singly in severely edited form due to space limitations in the magazine, and therefore lost a bit of its connective logic. Here's the original approved final draft (or at least as much as the author was able to reconstruct from his notes several years later) from before the editor decided to cut over 1500 words!



REQUIEM FOR A CLASSIC FORMAT.

Here's an appreciation of #127 roll film, of some of the interesting cameras that used it, and an examination of its likely impending demise.



SIMPLE SOLUTIONS TO PLAGUING PROBLEMS.

An entertaining article on ingenuity in classic camera designs, including unusual solutions to perplexing photographic problems, complemented by a number of excellent illustrations.



KODAKS FROM GERMANY? WHY, CERTAINLY!

A special column, written to answer specific questions from readers of Photo Shopper, where David Silver offers a brief discussion on Retina cameras while handling a few other topics in typical light-hearted fashion.



---

Articles published in various academic periodicals:


---

Articles published in various popular periodicals:


---

Click here to return to the home page of the International Photographic Historical Organization (InPHO) and learn more about our many other services.


---

For direct access to our services, or to request more information, please contact the office of the President, David Silver, by e-mail, or call us at (415) 681-4356.

International Photographic Historical Organization
P.O. Box 16074
San Francisco, California 94116
U.S.A.


---

Copyright © 2006 David Silver. All rights reserved.